Botanica Condominiums Phase ll
Showcasing a natural elegance
Designing a more modern multi-family development
Botanica II is a 10-storey high concrete and steel frame residential development with three levels of underground parking. With 117 open concept suites, this multi-family development features a tiered and stepped architectural massing to complement its location on the banks of the Sturgeon River from which the building rises from.
---
Who:

Boudreau Developments Ltd.

Where:
When:
What:

Architecture
Interior Design

Residential

36000 m2

Size

$58 Million

Budget
Taking natural inspirations
Pulling from the natural landscape precedent that the building is enclosed by, the building's natural elegance and volumetric spaces blend seamlessly with the design intent to create indoor spaces for residents that feel like an extension of the landscape which is enhanced further by the neutral colour palettes inspired by natural woods and stones finishes that complete a warm and inviting living experience.
---
The south-facing side boasts private balconies that overlook Sturgeon River Valley, with amenities designed intentionally for the residents. The large balconies feature tempered glass railings designed to maximize privacy and natural light flow into suites complemented with large window walls and oversized within suites maximizing natural light and the river valley views.

Continue exploring
Browse through these related projects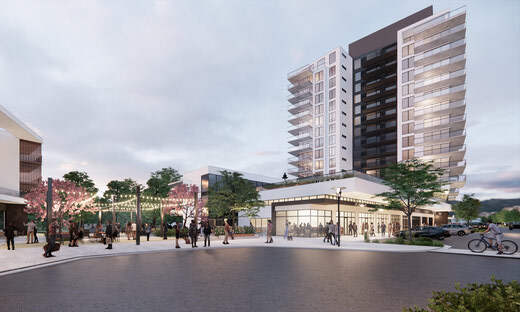 Riverbank Landing is a multi-use, multi-building development in the heart of St. Albert that will transform the area into a new urban public entertainment oasis for people to connect and enjoy a healthy living space.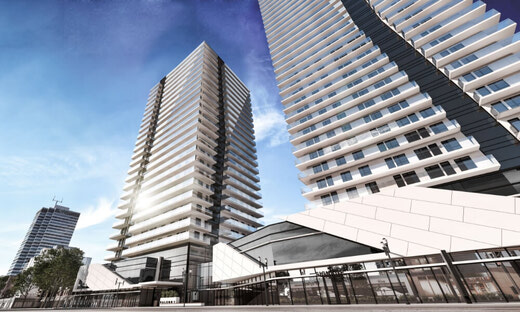 Falcon One will be the first high-rise residential tower to connect the 104th Street Promenade to the river valley. The vision for this site was to create rich architecture that brings a mix of housing and commercial retail south of Jasper Avenue.
Learn more about Arc Studio
Discover what makes our designs uniquely rewarding for our clients & their communities